Byron Kosuge, Winemaker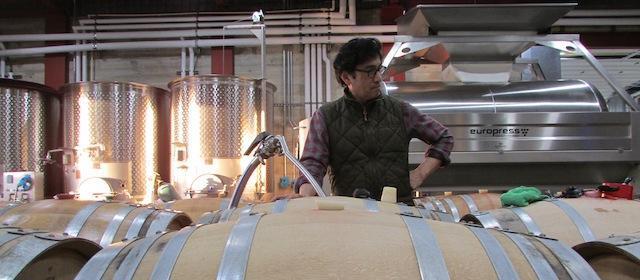 Since I named this brand after myself, perhaps I should explain who I am. I was born and raised in the Central Valley town of Davis, California. Yes, the one with the University. My late father grew up on a farm in Colorado before moving to California and becoming a university Biochemist, so there is farming in my blood. It took a few years for wine to find me … I studied English and American Literature for several years before settling on wine as a vocation. The first fifteen years of my winemaking career were spent making wine at Saintsbury in Carneros, where my obsession with the Pinot Noir grape began. After leaving Saintsbury in 2001, I have continued to make Pinot Noir and Chardonnay for Miura in California (where I continue to consult) and, in 2003, for a new Pinot Noir/Sauvignon Blanc/Syrah project in Casablanca, Chile named Kingston Family Vineyards. More recently, I began making wine for McIntyre Vineyards, an estate project based in the Santa Lucia Highlands, Small Vines Wines, an estate based property with several parcels in the Sonoma Coast and Alder Springs Vineyard, in Mendocino County. In the midst of all of this, I started my own brand in 2004.
I could never be a "rock star" winemaker. I'm much too ordinary for all that. I don't have a fancy winery, I haven't made wine in Burgundy, I don't appear in the society pages. I do, however, spend a great deal of time and energy thinking about the vines I work with and the wines I make. Over the years, I've found my way towards what I hope is a "new tradition" of winemaking, largely inspired by old world methods but recombining them in ways that seem to suit New World conditions. Anyone with more than a passing interest in wine knows that New World and Old World wines arise in pretty different conditions and yet we mostly insist that what works in Burgundy, for example, should work in California. I question that. Why not be brave and chart our own course?
---
<< previous | next >>